​

Contact:

acahill [at] albion.edu

Office: 254 Putnam Hall

​Phone: 517-629-0570

Principal Investigator: Dr. Abigail E. Cahill

My research interests center around evolutionary ecology of early life stages of marine species. I am interested in questions relating dispersal of marine invertebrates to other ecological and evolutionary processes, especially how dispersal type can influence local adaptation to temperature regimes and ultimately how these species may or may not evolve in response to global climate change. I am also interested in how marine invertebrate population dynamics are driven by recruitment and subsequent survival, and how these crucial processes are affected by environmental, phenotypic, and genetic variation.

Now that I live in Michigan, I am expanding my research program to ask similar questions of terrestrial and freshwater invertebrates.

Prior to moving here, I was a post-doc in the Institut M

é

diterran

é

en de Biodiversit

é

et d'Ecologie marine et continentale (IMBE), working at the Station Marine d'Endoume (Marseille, France) to understand population genetics, connectivity, and dispersal in marine systems.

I obtained my Ph.D. in the Department of Ecology and Evolution at Stony Brook University, working in the lab of Jeffrey Levinton on the evolutionary ecology of gastropods in the genus

Crepidula

.

---

Current research team:

Chris Breen

, Albion College

Cesar Cortes

, Albion College

Rachel Stander

​:

I'm a first-year student at Albion College with a Biology major, Psychology Minor, and a Secondary Education Concentration. I'm very involved on and off campus; some clubs and organizations I'm a part of include the Albion Community Mentoring Program, C.O.R.E., Ski and Snowboard Club, and the Student Volunteer Bureau. I'm also in the Prentiss M. Brown Honors Program and am the secretary of the Albion College chapter of Habitat for Humanity. As an education student, I spend a few hours a week assisting and teaching a local high school science class to get experience in the classroom. I'm interested in biology because I've always been fascinated about how complex the world around us is and how we, as individuals can manipulate it. I'm a passionate learner of the subject and I plan to teach biology as a future educator.

​

We are always interested in new undergraduate collaborators to join the lab. Please see the

Research Opportunities

page if you are interested in joining us.
Powered by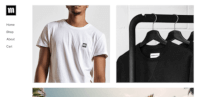 Create your own unique website with customizable templates.